Tim Horhota,
Certified member of the Canadian Golf Teachers Federation
Fall & Winter Rate $40 (1 hr session) now in effect.
Take 3 or more session before March 21, 2020 and the $40 rate applies the entire 2020 season!
The studio is available to work on your game during the Off-season  (subject to availability) . Students: $15/hr , Non-Students :$25/hr. Rate includes the use of the V1 Video System. Flightscope Mevo (Launch Monitor) is also available for an additional charge: Students $5/hr, Non-Students $10/hr
——————————————————————————————————————————————————————————————
Private and Semi-private Full Swing Instruction:
Let me help you to develop your golf swing and build confidence in the privacy and comfort of my fully equipped teaching studio. Come prepared for a fun and fast paced learning experience enhanced by the extensive use of video feedback. You will find learning is much easier when viewing your swings on the monitors as I explain what we need to work on.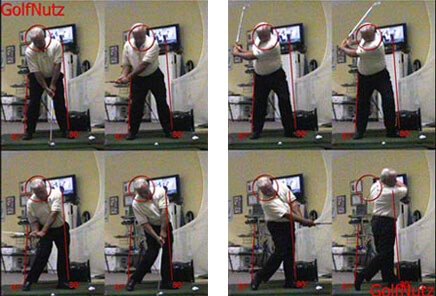 Seeing yourself on video is VERY enlightening!
Initially, the emphasis is on understanding and implementing the fundamentals of the 'setup' position; Grip, stance, posture, ball positioning, and alignment to a target. While it may sound rather boring, these are the basics that are the secret to achieving consistent results that every golfer hopes for. Once we have your setup properly established, adjustments to your swing will feel very natural. Balance and effortless power will quickly follow.
Your commitment and enthusiasm (and practice!) will ultimately determine how quickly you can take your new game to the course.
Are you ready for the challenge?
NEW:  Flightscope MEVO Launch Monitor
MEVO is a 3D Doppler radar based launch monitor used to help golfers measure / improve their performance.
Mevo provides carry distance, ball and club speed, smash factor, spin rate, vertical launch angle, apex height and flight time.
Check out these videos to see how it works;
Short Game Lessons:
The full swing and your short game share many of the same fundamentals, but with your short game, the emphasis is not on generating power, but on controlling distance and direction. The easiest and fastest way to reduce strokes and frustration with your game comes from improvements around and on the greens. We start by working on short pitch and chip approach shots to the green (Do you know / understand the difference?). We then focus on putting, with the emphasis on understanding 'distance' to the hole, and how to control the speed and distance. Lessons are held at Sawmill Golf Club's short game practice area which is located just beyond the far end of the parking lot as you drive in. Sawmill is approximately 20 minutes west of St. Catharines near Jordan. See MAPS section for directions. Private (1hr) and Semi-private (90 minute) sessions are available. Please call to make arrangements.
Playing Lessons
These sessions are not about your golf swing, but rather are a great way to find out how you can better manage your way around the course (ie: playing golf!); selecting targets, determining the 'real' yardage to your target and working thru shot & club selection. Playing lessons are also the perfect situation to work on developing your pre-shot and setup routines (emphasis on ball position and alignment). Typically, I encourage a five hole playing lesson in the early evening as being the most cost effective. Playing lessons are held at Sawmill Golf Course. Arrangements can be made by calling me directly at 905-641-8600.
GolfNutz Learning Centre was established in 2001 by Tim Horhota, Certified Teaching Professional – Canadian Golf Teachers Federation.
Certified through the: