Tim Horhota,
Certified member of the Canadian Golf Teachers Federation
I have turf tee plugs or replacement turf available for the Optishot System. Please follow the links below to find out more.
Sorry, the Optishot Simulator is not available for practice this off-season.
OptiShot Virtual Golf Simulator
OptiShot Virtual Golf Simulator is available during the off-season for your enjoyment.
Book your tee time & come in and practice or bring along some friends and enjoy a round. Play replicas of many championship courses, including Bethpage Black, Pebble Beach and Torry Pines.  Just $20 an hour and you split the cost with your friends! Typically takes 3 – 4 hours to play 18 holes depending on the options you select. It's fun and quite realistic.
(The Optishot course images are projected onto a large net that you hit real balls into.)
During the course of a round you will be faced with many shots requiring shot making and shaping skills. How well you're able to handle these shots will make a big difference in your score and how much fun you have playing the game.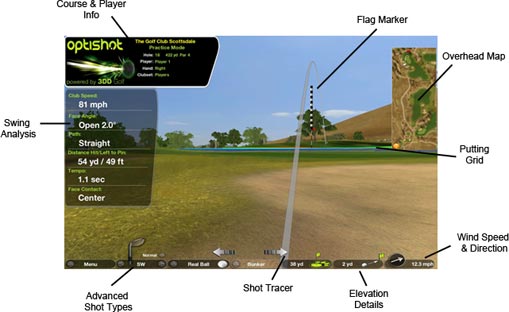 Until now your only option to practice during the off-season has been to hit into a net. This means you're not getting all the critical feedback needed to improve your swing, such as observing the ball flight. You're left guessing as to what's actually happening to your golf shots and can end up practicing the wrong thing over and over again.
Hitting balls on OptiShot is a completely immersive experience. Control the ball just like you would outdoors. You'll know whether that shot in the right rough was a slice or a push and what in your swing made it happen. This makes practicing much more beneficial, helping you understand your golf swing and lower your scores.
Whether you're on the driving range in Practice Mode or challenging yourself to a championship course in Play Mode, you will get realistic and accurate feedback. The combination of shot analysis and shot tracer technology puts the information right in front of you so you can make the adjustments necessary to routinely hit better shots with every club in your bag.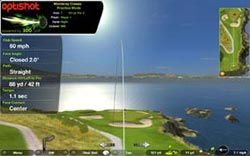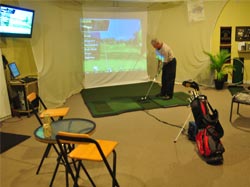 Certified through the: