Tim Horhota,
Certified member of the Canadian Golf Teachers Federation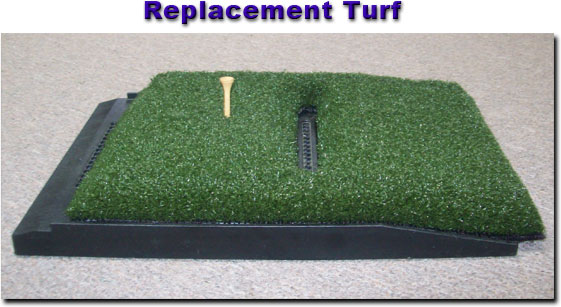 Quite Simply: The best turf option available.  Exceptional Durability AND great feel!
The best materials. Tear resistent by design. Well made. An unbeatable value!
And, It's reversable! Please read on for details.
Expect years of enjoyment using this mat! The turf easily absorbs the impact of even the most divot prone golfers without tearing.  You'll love the clean natural look and exceptional feel.  The dense and tightly interwoven fibers easily support any regular wooden or plastic tee. Just insert when needed. The turf's thickness keeps the sensors well out of harms way and provides added protection to the base unit.
Each mat is personally hand-crafted from the very best tee line turf available.  A full Velcro loop backing is permanently fused using highly specialized turf adhesive for an incredibly strong and durable bond.  Designed to be tear resistant, the sensor slot ends are rounded rather than square to strengthen the corners. The inside edges of the slot are beveled (by hand), preventing the turf from interfering with the sensors and effectively transferring the force of impact on  'fat' hits away from the edge. The leading front edges are also beveled to make it easier to roll the ball onto the surface.  And unique to this mat, the 'rear' portion of the mat has been extended to  be identical dimensions as the "front". You get a second brand new mat by simply turning the turf around!
Straightforward guarantee: Should the mat become damaged within 12 months of purchase I'll replace it. So go ahead, take your best shots and enjoy your Optishot System to the max.
I am a professional golf instructor whose students frequently use the OptiShot System to practice & play during the off-season. In the first few weeks after purchasing the Optishot System,  I had to replace torn turf twice.  Expensive and far too much downtime. In addition, students became apprehensive when using Optishot, concerned about breaking it. Over the next few months and numerous prototypes, I designed and developed a product that not only solved the problem, but significantly enhances the Optishot experience. The feedback from buyers has been fantastic. I'm confident yours will be too.
Thanks;
Tim Horhota
GolfNutz Learning Center
Orders are shipped weekday mornings. Get your order in early for same-day shipping!
$64.95 (USD)
+ 12.95 flat rate shipping & handling charges
(Also sold on eBay .. search on Optishot replacement turf)
* You will want to elevate your stance mat by approximately half an inch to 'level' the playing field. I recommend cutting a sheet of Styrofoam insulation board (1/2") and secure it under your existing stance mat.
** The turf pad overlaps the back edge of the base unit by 1″. This allows the turf to be reversible. If you have a stance mat with a cutout for the base unit, the turf may overlap slightly at the back.
*** If you still use the original thin turf, you may be interested in the turf tees I make that replace the rubber tee holder and let you insert a real tee into it. When a tee is not required, the ball sits flush to the mat sitting on the turf tee. Please follow this link
Certified through the: